Trisha Metzger, DVM
Associate Veterinarian
Dr. Trisha Metzger graduated from the University of Wisconsin-Madison of Veterinary Medicine in 2002. She practiced for one year at a mixed animal veterinary clinic in Wisconsin before venturing east to Virginia. After nearly two years of practice outside of Williamsburg, VA she eventually settled in the Stafford area. She spent the last 14 years living out her life's passion in the area as a small animal vet. She is so excited to join the team at St. Francis Animal Hospital.
Despite its unique challenges, Dr. Metgzer truly loves being a veterinarian and is thankful she can make her life's passion her career. While passionate about all things veterinary medicine, she maintains a particular interest in feline medicine, dentistry, small mammal medicine and husbandry, emergency medicine, dermatology, treating ear disease and endocrinology. She is a member of AAFA (American Association of Feline Practitioners), AEMV (Association of Exotic Mammal Veterinarians), and VECCS (Veterinary Emergency and Critical Care Society).
In her personal time, Dr. Metzger enjoys gardening and assorted home improvement projects, kayaking, hiking, camping crafts, cooking, swimming and spending time with friends. She also has a minor obsession with guinea pigs. Whenever possible loves to return to the frozen tundra of Wisconsin to visit family and remember what real snow and winter look like.
Her furry family members include three feline friends: Reggie, Sherwin Williams, and Reuben. Her guinea pig herd consists of Cinnamon, Nutmeg, Chili and Pepper. Someday she will fulfill her dream of having a pair of Greyhounds (but her current feline family members will not allow it).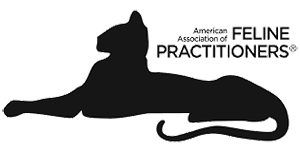 Book an Appointment
next team member